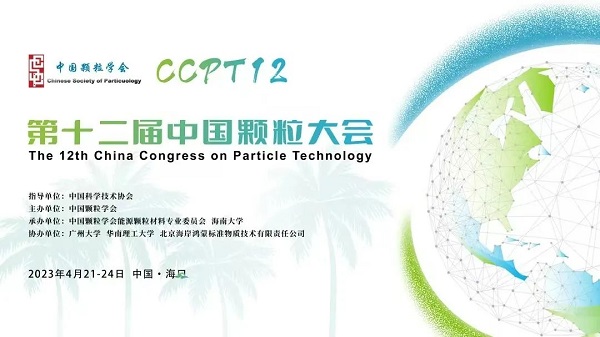 The 12th China Congress on Particle Technology (CCPT12) will be held in Haikou, Hainan Province, from 21-24 April 2023, to promote academic exchange, discipline development, technological innovation and talent growth in the field of particles and powders.
The theme of the 12th China Congress on Particle Technology is "Innovation for Double Carbon, Green for Development". The conference is a national high-level comprehensive academic conference in the field of granulometry, which is in line with the development needs of the Association and inherits the previous academic conferences of the Association. The conference will focus on scientific research progress, industrial development and talent growth in the field of granulometry, and will collect scientific papers (abstracts) from the granulometry and powder industry, as well as from scientists in the chemical, energy, materials, pharmaceutical and environmental fields. 2022 awards of the Chinese Granulometry Society will be presented at the conference. The conference will also select the Youth Report Award and the Outstanding Poster Award, submissions are welcome.
An exhibition of particle/powder instruments, equipment, products and applications, including particle/powder testing and analysis instruments, preparation equipment, products and their applications in chemicals, energy, materials, medicine and environment, will be held in the same period of the China Particle Congress.
Information about the Chinese Society of Particle Science Granulometry Award will also be exhibited during the conference, so please stay tuned.
---
NEWARE Participants: Yumin Feng, Changting Zeng, Ruling Luo, Xinru Du.
Shenzhen Office: NEWARE TECHNOLOGY LIMITED
15/F, Tower 3, Excellence City, No.128, Zhongkang Rd., Shenzhen, CHINA 518049

Stay in the loop! Scan the QR code for exciting content and stay informed.